Pierre Plantard: Dotty Fantasist
&
"The Priory of Sion of Today"

7 May 2017
Revised 9 May 2017

Paul Smith


When Pierre Plantard was arrested by judge Thierry Jean-Pierre in 1993 over his fake claim that Roger-Patrice Pelat was Grand Master of the Priory of Sion, it effectively marked the end of his long continuation of lies and mass-production of fake documents that began during World War II. Plantard stayed underground from 1993 until his death in 2000.

Of course, Roger-Patrice Pelat was made "Grand Master" after his death, as was the usual custom, although there were rumours in existence that Plantard hoped Pelat's son would take on the role of Grand Master (who was a traffic cop at the time).

"Would you swear on the Bible that the Priory of Sion was real !!" judge Thierry-Jean Pierre thundered at Pierre Plantard in 1993. Cornered, Plantard gave a negative reply. This information, originating from one of the acquaintances of judge Thierry Jean-Pierre to a researcher, who hoped to interview Thierry Jean-Pierre, was never published. Judge Thierry Jean-Pierre could not hold an interview at the time because he was too busy holding an important position in the European Union, so he passed the researcher on to one of his colleagues.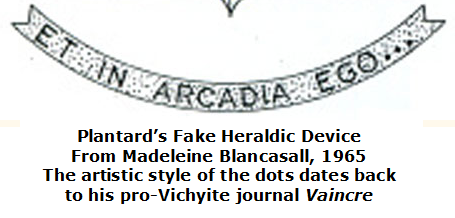 Dotty Pierre Plantard, who began claiming to be descended from Dagobert II during the early 1960s – has still got willing disciples today who carry the mantle about Merovingians linked to the fake mystery of Rennes-le-Château. Plantard was also responsible for starting the phoney story about Hugues de Payens marrying a totally mythical "Catherine Saint-Clair" – a lie that found itself published in dozens of books in many different languages over the decades.

Plantard hi-jacked Maurice Lecomte-Moncharville as the "Grand Master of the Alpha Galates" during the 1940s and began calling him "Le Comte Moncharville" – all of it done without Lecomte-Moncharville's knowledge.

Ex Pierre Plantard colleague Gino Sandri perpetuates this joke today, calling himself the Grand Patriarch of the Order, conflating together the two contradictory "histories" of the Priory of Sion found in Les Dossiers Secrets (written under the influence of LSD) and that found in the revived journal Vaincre of the late 1980s. The Secretary General of this laughable 2017 current Priory of Sion (registered in Italy), is Marco Rigamonti.

This 2017 version of the Priory of Sion does not promote a direct lineal descendant of Jesus Christ – instead it peddles the descendants of Jesus Christ's first and second cousins – the Desposiny (it was really their offspring that kick-started the noble families of Europe; important Americans are also descended from the Desposiny). The "secret" lying at the heart of this modern version of the Priory of Sion is Gnostic Initiation and "The Mystery of Rennes-le-Château leads to other mysteries, incomprehensible to ordinary members of the public."

French author Christian Doumergue debunked Pierre Plantard and the Priory of Sion in his book Le Secret Dévoilé: Enquête sur les Mystères de Rennes-le-Château (La Varenne-Saint-Hilaire, 2013), but hilariously maintains that Plantard (and Philippe de Chérisey) "knew something" about Jesus Christ and Mary Magdalene in Southern France in order to buttress his own bizarre theories.

When Christian Doumergue, President of Association Terre de Rhedae, held an exhibition in Rennes-le-Château devoted to Pierre Plantard in 2013, to coincide with the publication of his book, this drew hostility from French author Paul Rouelle and Éditions de l'Oeil du Sphinx, publisher of Laurent 'Octonovo' Buchholtzer's 2008 book, Rennes-le-Château: Une Affaire Paradoxale (the story was covered in L'Indépendant, "Une exposition très controversée à Rennes-le-Château", 9 August 2013; and on André Galaup's website, "A book that could jeopardize the soul of Rennes-le-Château", 30 July 2013; that was later withdrawn by André Galaup after he deliberated that the attack on Doumergue by Éditions de l'Oeil du Sphinx was done for political reasons, for the publisher to gain control of the Association Terre de Rhedae; "Les échos du 12 août 2013: Nostalgie, quand tu nous tiens"; producing schisms among the various groups of believers in Rennes-le-Château).

French author 'Octonovo' once disclosed how he dismissed Pierre Plantard because of the way his family suffered under the Nazis during World War II. Octonovo may believe in a fake Rennes-le-Château treasure, but he's published some terse and factual information about Pierre Plantard in both his articles and in his book – as well as delivering anti-Priory of Sion lectures for Politica Hermetica Conferences: "Après la Seconde Guerre mondiale, le Prieuré de Sion redonna des couleurs aux généalogies mythiques, Laurent Buchholtzer établit un dossier sans concession" (2008, 2013, 2014; Laurent Buchholtzer, "Le Prieuré de Sion: Elément Concret ou Personnage Fictif?" in Politica Hermetica, No 28, 2014).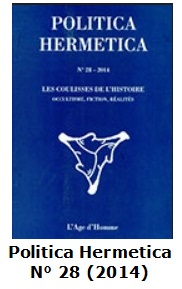 Octonovo wrote the article "La généalogie de Pierre Plantard" (The Family Tree of Pierre Plantard) for the French magazine, Actes du Colloque d'Etudes et de Recherches sur Rennes-le-Château (Éditions de l'Oeil du Sphinx, Le Serpent Rouge, Volume 31, pages 67-71, 2012).

Octonovo showed how Plantard's family tree only went back as far as the seventeenth century with the arrival at Sémelay (Nièvre) of Jean Plantard (1623-1650) and his son Louis (1645-1673). Pierre Plantard Senior was born in Magny-Cours (Nièvre) on 11 October 1877 and had two brothers, Louis (1881-1952) and Etienne (1884-1963). The whole family followed him to Paris in the 1900s. Plantard's father worked as a coalminer in 1898 before landing the job as a manservant in 1905. Called into active duty in World War I, he resumed his job as manservant after the war. Plantard's father suffered a fatal accident in 1922 when he fell from the second floor into the courtyard at 44 rue Copernic, while cleaning windows in the service of Madame Elisseieff as a butler.

Pierre Plantard's references to Abbé Plantard as his cousin, vicar of the basilica of Sainte-Clotilde in Paris, were all lies. The Abbé belonged to an entirely different family (Abbé Pierre Marie Joseph Plantard, born on 19 July 1872).

Octonovo commented: "The business about the vicar of Sainte-Clotilde turns out to be yet another lie, one that tells us so much about Plantard's opportunism, his unscrupulous character, and also the lack of care with which he created his various fantasies."

Yet facts get in the way of entertainment. Facts spoil the Amusement Park of Rennes-le-Château and the Priory of Sion.