Philippe de Chérisey's Irrational Manias

Paul Smith

1 March 2017


Philippe de Chérisey was a lifelong drunkard. He underwent operations relating to his alcohol addiction that eventually killed him in 1985.
>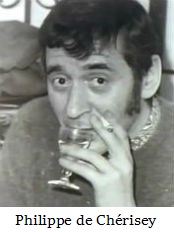 Many of his works relating to the Priory of Sion were inspired while under the influence of alcohol, which is why they seem so incoherent. Followers of surrealism were not followers of Philippe de Chérisey.

Not only did he strike up a partnership with fantasist Pierre Plantard – who from the early 1960s began to believe he was descended from French nobility – and not only did he fake the "Saunière parchments" – he also held cranky beliefs about the fake Rennes-le-Château "mystery".

Philippe de Chérisey wrote the following nonsense about Rennes-le-Château:

– The treasure of Rennes-le-Château was comprised of 350 million francs divided into 180 hiding places


– It was a combination of the gold of Delphi, the treasure of King Solomon, the treasure of the Merovingians and the treasure of the Visigoths.


– It was protected by a race of Dragons: descended from the Volques Tectosages, running through parish priests, passing by the Riphées, and this included the Cathars and the Knights Templar.


Philippe de Chérisey made this ludicrous statement in Chapter XII of his novella "Circuit" (1971)

Viz: