Rennes-le-Château Pleasure Books and Websites
Paul Smith
16 April 2017
Most of which has been written, produced, and talked about Bérenger Saunière and Rennes-le-Château – whether in the form of books, films or conferences – can be described as pleasure material. The subject matter is there to be enjoyed – otherwise there wouldn't be any attraction to it.

The difference between the Bérenger Saunière of historical reality and historical fantasy is monumental. Giving negative accounts of Saunière's real life is not to be encouraged. This is applicable especially to the French spectrum (since as far back as Easter 1955).

Val Wineyard's recent self-published book omitted such negative material.

Some examples:
Pages 52-64: "Bérenger Discovers a Crypt"

This is unlikely, since the church at Rennes-le-Château was re-floored by the Parish Council on 5 June 1887 when Saunière wasn't even there, having been suspended from his priestly duties on January 1885 and teaching at the Du Petit Séminaire de Narbonne until 1 July 1887.

Page 29: "The day before the general elections of October 1885, Bérenger preached that The Republic is the work of the Devil"

There is no evidence for this. Saunière delivered an anti-Republican sermon before the 1885 elections where he quoted a sermon from La Semaine Religieuse de Carcassonne, but nobody knows which sermon. None of the sermons from La Semaine used the words "The Republic is the work of the Devil".

These sermons were first published during the 1980s in the magazine Les Cahiers de Rennes-le-Château ("Les Elections de 1885", Tome II, 1984; reprinted in Les Cahiers Collection, Volume I, Tome II, 1997; this being a compilation of Tomes I, II, III, IV). The sermons from La Semaine are dated 13 September 1885, 27 September 1885, 4 October 1885, 11 October 1885 and 18 October 1885,

It was French author Jacques Rivière who first quoted Saunière as saying that in his 1983 book Le Fabuleux Trésor de Rennes-Le-Château! – and that was in italics. When reading the relevant passage in Rivière's book, an extract from a genuine political sermon is given from La Semaine Religieuse de Carcassonne in quotation marks, then the "Les Republicains, voilà le Diable à vaincre" text is given in the following paragraph, but in italics. It looks like Rivière's source for the passage was the statuary of the Devil, Holy Water Stoup and Angels within the church of Rennes-le-Château, and Rivière configured that into an imaginary Saunière political sermon.

The alleged "quotation" My dear brothers, we are called by the republic to elect our representatives containing the words "The Republic is the work of the Devil" originates from Jean-Luc Robin's book Rennes-le-Château: Le secret de Saunière (2005) – and Jean-Luc Robin does not provide a source.

Page 30: "The Marquis de Chefdebien liked the brilliant Alfred Saunière and welcomed Bérenger into his home"

Researchers have failed to confirm whether or not the Marquis de Chefdebien knew the Saunière brothers.

Page 107: "Abbé Boudet is said to have provided Saunière with a total of 13 million francs between 1887 and 1915, paid via Marie"

This is one of Pierre Plantard's fantasies dating from 1978, from his preface to one of the reprints of Henri Boudet's book.

We know from Saunière's Correspondence Record 1896-1915 that Saunière received small amounts of money from Boudet on an irregular basis, dating from March 1896, March and October 1897, January and November 1898, March 1899 and March 1900, amounting to a grand total of 290 francs. That's a big difference when compared to Plantard's claims.

Pages 136-137: "Sauniére's Bookplate was an alchemical work by Hinricus Madathanus (1677), which looks like a Plantard hoax!!!"

It wasn't a Plantard hoax but part of the new decorations when the Saunière museum was renovated in 1993 based on the initials B.S. found on the cover of the book by Henrichus Madathanus (Bitumen and Sulphur, or Blut & Stein, not Bérenger Saunière).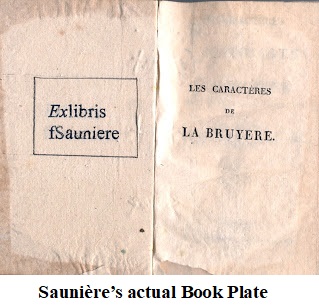 Page 146: "Pre-stamped envelope from Saunière addressed to the Banque Fritz Dorge at Budapest, main place of residence of the Habsburgs"

Nothing special here – Saunière was playing the Hungarian lottery and a letter exists from the Bank Fritz Dorge, Budapest to Saunière dated April 1909.

Saunière was also interested in obtaining shares in the Oklahoma Amalgamated Oil Company (letter to Saunière relating to this from the Banque Russe du Commerce et de L'Industrie, dated 17 April 1913).

Pages 142-147: "How did Bérenger become rich?"

No mystery at all,

Saunière's Correspondence Record 1896-1915 shows he obtained over 200,000 francs from selling masses. And there's also the Saunière documentation in the possession of Antoine Captier that could reveal hundreds of thousands of francs more obtained from selling masses,