Article from L'Indépendant of Saturday 22 April 1961
Television programme reconstructs the story of Abbé Saunière discovering the fabulous treasure of Rennes-le-Château
The film-makers of the RTF have followed historians, tourists and also treasure-hunters in climbing the slopes of Rennes-le-Château.

Marina Grey, the producer of the programme La Roue Tourne, who – among other things – has relatives living in Couiza, has made that village her home-base where, along with her team of technicians and cameramen, she has been for 48 hours now, arousing the keen curiosity of the local population, since it is not every day that 'Television people' come to the Haute-Vallée of the Aude.

Every morning the team leaves for Rennes-le-Château to get down on film these mountains that are famous in the history of the Languedoc and to reconstruct the adventures of the Abbé Saunière, who is being portrayed in the programme by the present owner of the Hotel de la Tour, Monsieur Corbu, who over the past ten years has assembled an impressive dossier on the life of the legendary priest and his fabulous treasure.

Will the secret and the mystery which surround the treasure be resolved one of these days?

That is one of the aims of Marina Grey's programme La Roue Tourne. It is also one of the aims of the hypnotist Domergue, who we bumped into once again over the past few days and who told us:

"I'll be resuming my excavations in June. I'm not very far away from my target, and before the end of the summer I'll have reached the gallery leading to the barrels of gold."

Domergue, following the revelations of his medium, thinks that the famous treasure is actually contained in fourteen barrels, but that one of them has been emptied by the Abbé. Even if only thirteen remain however their discovery would still cause a considerable stir around the massive escarpment of Rennes-le-Château.

What is certain, and what viewers of the programme will certainly conclude, is that Rennes-le-Château is certainly a treasure of tourism that is unique in our region, the magnificent view from the gardens where the Abbé entertained his guests alone being worth several hours of contemplation, even if the soil on which one is walking does not conceal the coveted gold of the Abbé's treasure.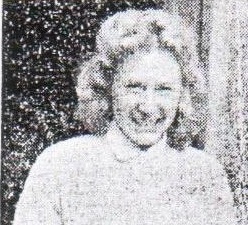 Marina Grey