Pierre Plantard and Roque Négre (Mount Blanchefort)

Paul Smith

3 November 2014
In 1973, Jean-Luc Chaumeil provided information about how Pierre Plantard bought parcels of land N° 633, N° 634, N° 635, N° 616, N° 636 and N° 647 around Roque Négre on Mount Blanchefort ("where the lineage of Sigebert IV has been preserved"), in the vicinity of Rennes-les-Bains in Le Charivari Number 18, "Les Archives du Prieuré de Sion" (October-December 1973; translated into English in 2010).

In Annexe 1, "Le Dossier Immobilier de Pierre Plantard a Rennes-les-Bains", to the French magazine Actes du Colloque d'Etudes et de Recherches sur Rennes-le-Château 2012 (Les Editions de l'Oeil du Sphinx, Le Serpent Rouge, Volume 31, 2013), pages 79-101, it was reported – with supporting documentation comprising of various letters and other material – that Pierre Plantard in 1967 wanted to buy parcels of land N° 636, N° 645, N° 646, N° 647 and N° 658 around the region of Roque Négre, on Mount Blanchefort, off André Flamand, in the vicinity of Rennes-les-Bains.

Pierre Plantard managed to buy parcels of land N° 647 and N° 658 for 150,000 old francs (15K new francs) in 1971. He also eventally bought parcel of land N° 645 of Roque Négre for 500,000 old francs (50K new francs) in 1974.

In 1967 Pierre Plantard began taking proceedings to buy the house of André Flamand in Rennes-les-Bains (costing 3,500,000 old francs; 35,000 new Francs); and by 1974 had bought himself "une concession perpétuelle" at the Rennes-les-Bains cemetery – although he was never actually buried there. His remains were cremated when he died on 3 February 2000 in the Colombes region of Paris.

Although Pierre Plantard introduced a number of new hoaxes and myths in relation to the story of Bérenger Saunière and Rennes-le-Château – and how the Saunière story "validated" his claims to be the "direct lineal descendant of Dagobert II", Plantard also became enamoured with this region of the Corbières and took to heart the myth of "The Devil's Treasure" first spun by Auguste de Labouisse-Rochefort, as published in his book Voyages a Rennes-les-Bains in 1832.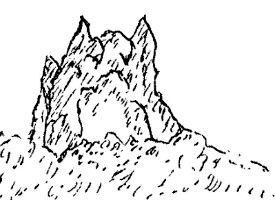 Roque Négre by Pierre Plantard, 1967
Plantard exploited Labouisse-Rochefort's myth – the legend of his "Devil's Treasure" became the "secret" of the renewed and revised version of the Priory of Sion of the 1980s and 1990s – given in the issues of "Vaincre" of the late 1980s.

Plantard's secret of the Priory of Sion lay beneath the Roque Négre in the underground temple – a former Celtic sanctuary called the TEMPLE ROND – and the decoding technique to the Large Parchment – fabricated by Philippe de Chèrisey during the early 1960s – was the most important part of the initiation process and the gaining of entry into the underground temple.



Plantard Letter, 4 April 1989 (Vaincre June 1989)