Pierre Plantard & Jesus Christ

Paul Smith

3 August 2017

There is no evidence that Pierre Plantard ever believed in a heretical Jesus Christ.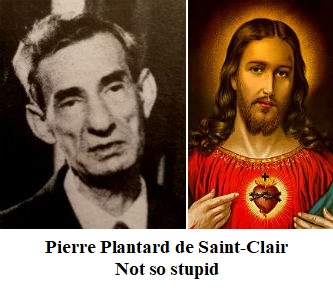 There isn't anything written by Pierre Plantard anywhere that shows he believed in a Jesus Christ that was different to the one found in the New Testament.

Shortly after The Holy Blood and The Holy Grail was published on 17 January 1982, suggesting Pierre Plantard was the direct descendant of Jesus Christ and that this was the "secret" of Rennes-le-Château, Pierre Plantard gave an interview with Jacques Pradel on French radio (France-Inter), countering the Jesus bloodline theory on 18 February 1982.

Quoting Pierre Plantard:

" 'I admit', he [Plantard] says, 'that 'The Sacred Enigma' is a good book, but one must say that there is a part that owes more to fiction than to fact, especially in the part that deals with the lineage of Jesus. How can you prove a lineage of four centuries from Jesus to the Merovingians? I have never put myself forward as a descendant of Jesus Christ'"

This is taken from the article by Philippe de Chérisey, Jésus-Christ, sa femme et les Mérovingiens (Nostra, 'Bizarre News' N° 584, pages 34-35, 1983).