Interview with Pierre Plantard de Saint-Clair, 1989
23 January 2003
Restored 28 September 2017
Updated 29 September 2017
At: 4:46 PM GMT

ORIGINAL ARTICLE
This translation, which first appeared on this website many years ago, represents the revised history of the Priory of Sion of the late 1980s, replacing the history found in the 1967 Les Dossiers Secrets d'Henri Lobineau (described below as an "outrageous book"). The literature found in the issues of Vaincre of the 1980s marked a split between Pierre Plantard and the authors of The Holy Blood and The Holy Grail – Baigent, Lincoln and Leigh tried unsuccessfully to manufacture a Priory of Sion of their own in The Messianic Legacy, linking it to the Guardian Assurance company through documents that were first published in Louis Vazart's 1983 book, Dagobert II et le mystère de la cité royale de Stenay.

Those same documents were also published in France Cavaillé, Une Enquête du Prieuré de Sion (Colombes, Radio-Occitanie Television, 1984), although this information was omitted from The Messianic Legacy. There were no updates relating to the Guardian Assurance company – Baigent and Leigh went on to write books about other things after 1986 and Henry Lincoln turned his attention to Sacred Landscape Geometry (his appetite for this being whetted when being a guest to David Wood's home and listening to his theories about this – he kept the publication of The Holy Place a secret so David Wood would not find out what was going on).

Plantard's interview below is pure hokum and as worthless as anything he ever claimed about himself, but it shows how popular the version of the Priory of Sion of Les Dossiers Secrets continues to be in 2017 – with the likes of Gino Sandri and Marco Rigamonti continuing to adhere to the fantasy of it being created by Godfrey de Bouillon during the Crusades.

The real Priory of Sion was founded on 19 September 1738, and Les Dossiers Secrets was spurious because it was written under the influence of LSD, Plantard maintained.

Of course, Roger-Patrice Pelat proved to be an important figure in this 1980s version of the Priory of Sion – something that got Pierre Plantard into serious trouble and proved to be his undoing in 1993.


THE PLANTARD INTERVIEW
Vaincre No. 1, April 1989, pages 5-6
Editorial Office: 110, Rue Henri Dunant, 92700 COLOMBES

AN INTERVIEW WITH PIERRE PLANTARD DE SAINT-CLAIR
by Noel PINOT


In AVIGNON last March 9, I met PIERRE PLANTARD de SAINT-CLAIR. I wanted to ask him some questions on behalf of all the brothers of the ORDER. Here are his replies, reproduced without any comments from me.

Question:
Your return as Grand Master of the PRIORY OF SION gives rise to many questions, as you are accepting leadership of the ORDER for the second time.

P. PLANTARD:
That's right. When I resigned in 1984, I had no idea that I'd ever review my decision, but in view of my present circumstances I've decided to respond to a request from all the members. My return is subject to certain conditions and was decided upon after quite a few discussions.

Question:
Someone has written that you had major differences of opinion with the Marquis Philippe de CHERISEY, whom you have succeeded.

P. PLANTARD:
In fact, Philippe de Cherisey has been my friend for many years – since 1939, I think, perhaps even 1938. However, he was very easy to influence and allowed himself to be manipulated by our enemies, who were motivated solely by financial interests.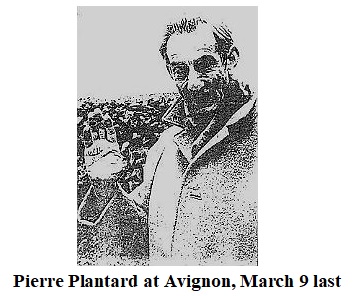 Question:
By 'enemies' do you mean the American Brothers?

P. PLANTARD:
For a long time the American dream has been to dominate our country for financial and economic motives. The ORDER, very many of whose members are themselves major financiers, politicians, directors of major insurance companies, magistrates and so on, is the ideal CIRCUIT for various courses of action.

That's how Patrice PELAT was ensnared and (I can say it again here) I retain for him the most profound affection in spite of everything that has happened.

Question:
A lot has been written about you. As soon as someone says RENNES LE CHATEAU one immediately thinks of Pierre PLANTARD!

P. PLANTARD:
RENNES represents an historical association of my family, as well as a powerful location of the PRIORY OF SION to those who are not members of the ORDER. This has been the case ever since 1967 when Philippe TOSCAN published an outrageous book entitled 'Dossiers Secrets'. This person made the headlines of the daily newspapers during his arrest by the drugs squad on 11 APRIL 1967. He had been a member of the PRIORY OF SION, but had been expelled in February 1967 for taking drugs (if I remember correctly, and contrary to the erroneous statements of Gérard de SÈDE)! The foundation of the PRIORY OF SION goes back neither to the Crusades nor to a declaration at the Sous-Préfecture of Saint-Julien-en-Genevoise in 1956, any more than the venerable Masonic institution dates from HIRAM (founder of the Temple of Jerusalem), or any more than AMORC, which was created in 1915, existed in the Egypt of the Pharaohs. According to the archives that we possess, which are those of Monsieur de SAINT-HILLIER (great-uncle of Philippe de CHERISEY, and HILLIER without an 'S') and which come from the Château du Lys, the PRIORY OF SION was founded on 19 SEPTEMBER 1738 in RENNES-LE-CHATEAU by François d'HAUTPOUL and Jean-Paul de NEGRE. If there are any connections pre-dating this then we are certainly not aware of them.

Question:
It is said that the ORDER was associated with the Compagnie du Saint Sacrament (Company of the Blessed Sacrament).

P. PLANTARD:
Abbé J.P. de Nègre had some links with this 'Compagnie'.

Question:
Reference has been made to the parchments that are in England and to coded parchments discovered in a pillar of the church in Rennes-le-Chateau.

P. PLANTARD:
The parchments that were in London some years ago are completely authentic. It is quite incredible that so many stories should be told about this subject, as all the official documents of the HAUTPOUL family until 1337 were copied by Charles René d'HOZIER de SERIGNY, Juge d'Armes, on the orders of King Louis XIV. The documents were notarised on 30 April 1781. They were reproduced in Montpellier between 1911 and 1913. As regards the question of the 'famous' parchments published by 'a person' who claims authority in the matter, that is a fabrication by Philippe de Chérisey for a film on Rennes similar to that of Jean Louis FOURNIER, based on the novel by J.M. THIBAUX called L'OR DU DIABLE ('The Devil's Gold'). These latter parchments are of no value at all. The original text is in the Bibliothèque Nationale, in a book of Christian Antiquities.

Question:
Gérard de SÈDE says that your ancestor Jean PLANTARD did not marry a SAINT CLAIR and that another of your ancestors (also a Jean PLANTARD) did not marry a Pierrete LEBOURGOING. Is that correct?

P. PLANTARD:
Would you mind telling me exactly who would believe the tall stories of Gérard de SÈDE? I intend publishing some letters by this individual on the subject of the SAINT CLAIR family (see extract from a letter of 18 November 1962 written by Gérard de SÈDE to Pierre PLANTARD, this 'dear friend' of his).