Jesus in Glastonbury and Priddy
In a footnote in his book St Joseph of Arimathea at Glastonbury, Lionel Smithett Lewis referred to a "dignitary in Wells" who claimed the story of Jesus visiting Glastonbury and Priddy was invented by a schoolteacher as a school play for entertainment (repeated by Henry Ardern Lewis in his booklet, Christ In Cornwall?).

The "dignitary in Wells" could have been J. Armitage Robinson, the Dean of Wells 1911-1933. If so, it's disappointing that the story was never published, providing further details as a supplement to his 1926 book, Two Glastonbury Legends: King Arthur and St Joseph of Arimathea.

The Glastonbury Legends were not mentioned in Venerable Bede's Ecclesiastical History of The English People, circa 751.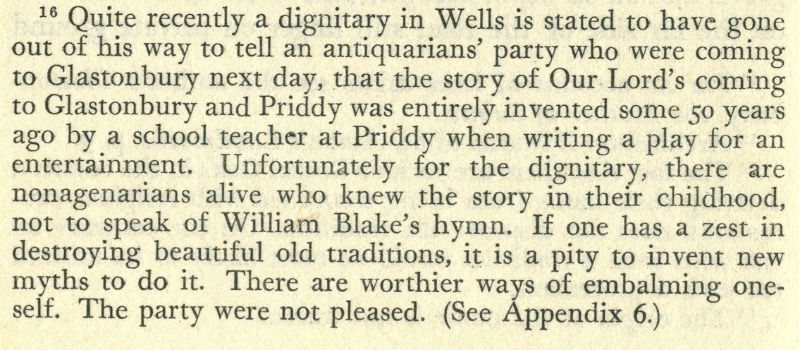 From the 1955 Edition